ABOUT OUR RETAIL STORE
We've always been passionate about great gear. Whether it's the stuff you wear to flag your fetish or the toys and equipment you play with, great gear makes sex better. And great sex makes your life better.
In 2005 we opened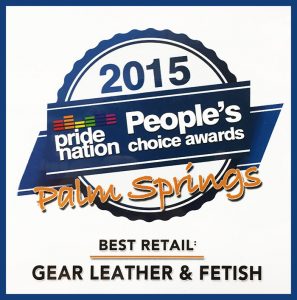 http://www.gearleather.com/wp-content/uploads/2016/06/PeoplesChoiceMini.jpg 700w" sizes="(max-width: 297px) 100vw, 297px" style="box-sizing:border-box;border:0px;vertical-align:middle;max-width:100%;height:auto;float:left;margin:5px 20px 20px 0px;width:auto"> our retail showroom to share our passion for great gear with the world. Our beautiful, light-filled shopping environment, outstanding service and exceptional curated collection of quality fetish products quickly earned us widespread customer and industry acclaim.
Our inventory includes over 2500 square feet of leather and neoprene clothing and accessories, BDSM gear, boots, briefs, jocks, socks, tees, gym wear, toys, and even playroom equipment.
Everything we carry is chosen from among the world's finest makers. It's stuff we personally use, so we know it's great! Our brands include:
Mr. S
665
Nasty Pig
SquarePeg
Dungeon Beds
JimSupport
KinkLab
LeatherStock
Oxballs
Sport Fucker
Colt
Fun Factory
Timoteo
Cellblock 13
Fleshjack
Perfect Fit
46XY Home
Bathmate
Paddle Daddy
Elbow Grease
And since everything goes better with a lot of lube, you can slick it up with the widest variety of specialty lubricants (at the best prices!) anywhere.
Drop by and visit. We promise a warm welcome and a fun experience. You may even learn a thing or two!